After taking a final look at your song lyrics, intuitively, the next step would be to demo it. Right? Why? To experience the feel of the song. However, there are other purposes for demoing a song such as to fully work out your ideas, troubleshoot minorly the lyrics with the producer, identify and eliminate mistakes, add depth, meaning and cohesion, uncover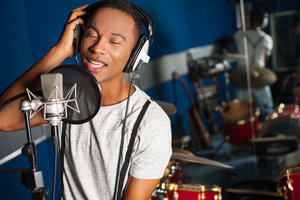 transition issues, more importantly to ascertain that the song streamlines with its fundamental message no matter the genre or manner it was presented. If it resonates with you, you will love one of our most popular custom song writing services for independent song and lyric writers. Click here to learn more.
Using professional studio recording services will make you earn more credibility among music industry deciders. A quality-recorded demo is a necessary part of the equation for song writers aiming to get their music heard by music industry professionals.
It should be noted that the expectations of a demo and an actual recording are similar nowadays; your audience's decision to listen to or dismiss your song takes about ten seconds, a decision which on a large scale will make or mar its success, you should consider putting in great production quality into your demo. Remember, you can no longer make excuses for the failure of your demo because you have only one shot to make a bad or good first impression. Whatever happens after is history.